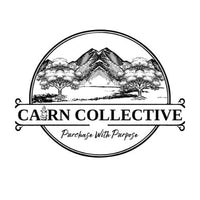 We have a VERY exciting announcement!
After several years of fine tuning our craft and connecting with other mindful and creative makers we have evolved! We have found that IMPACT is greater by partnering with like minded individuals! Through this vision and focus, we are VERY excited to share with you that we are now Cairn Collective! Here you will find a collection of goods carefully crafted by different community members who are helping us to continue our mission-plant one tree with every item sold! If you would like to join our community, please send us an email to : Impact@cairncollective.org
About Cairn Collective
We care about our planet's future.
Cairn Collective, formerly known as Forever Cairn was founded with humble beginnings in 2017 by Tricia Williams, who wanted to start a business that would give back. A lover of the great outdoors, Tricia's goal was to share her passion for saving the planet while also embracing her creative side. Coming in contact with One Tree Planted, a non-profit organization that plants one tree for every dollar donated, was what tied her whole vision together: purchasing with a purpose. Upon building this partnership with One Tree Planted, Forever Cairn has committed to donating $1 with every purchase, which goes toward global reforestation.
As of September 2021, Cairn Collective has planted over 5,563 trees… and it doesn't stop there.
Team members of Cairn Collective handcraft jewelry from their own studio, while also sourcing hand made and fair trade from artisans near and far! This dynamic collective of artists and environmental activism is what makes Tricia's mission of building a nature-focused community possible.
Mission
A strong community is game for change.
At Cairn Collective, we strive to continuously give back to nature. We work with One Tree Planted to help preserve one of Earth's most essential pieces: trees. Since the organization's start in 2014, they've planted 15 million trees in four collective continents. They recognize our forests are in danger and make it their mission to restore them in a community-oriented way, making it easy for anyone to give back to nature through a simple donation of just $1.