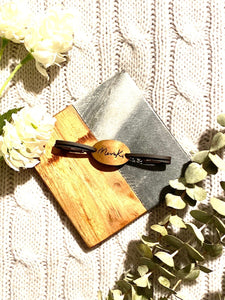 Meraki Bracelet
Regular price $18.00 Sale
Hand Stamped MERAKI Faux Suede Stacking Bracelet
Meraki Definition: to do something with soul, love, or creativity.
Each bracelet is made from a vintage copper penny that has been flattened and stamped by hand.
This style bracelet is comfortable and dainty making it perfect for stacking with your other accessories.
Each band is made from faux suede that is textured on the front and soft on the back.
Each bracelet is secured using an antiqued brass clasp and extender chain fitting 6-8 inch wrists. Please leave a note at checkout if you need a smaller or larger size.
Please keep in mind every piece is handmade and will be slightly different making it one of a kind by one of our Cairn Collective Partners, The Traveling Penny.